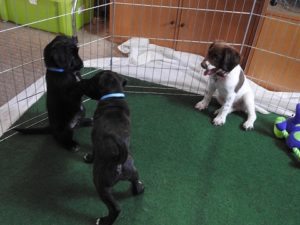 Free Puppy Play Group (Currently suspended, until Social Distancing is revoked)
It is most important to socialise your dog while it is a puppy and they are at their most receptive to new experiences and before they start formal training classes.  Please ensure that your puppy is fully vaccinated before attending.
We run our FREE puppy playgroup on a Friday evenings from 6.30pm to help your puppy adapt to its new life in a safe environment.
These playgroups will help your puppy to:
Be handled by people
Interact with unfamiliar people and dogs
Cope with new surfaces
Cope with scary sounds
Interact with man-made objects
Have confidence in new environments
The play group is held in either our large indoor barn (particularly in the winter) and often in our training paddock in the summer. Classes are free to Animal Magic Club Members (not a member? then join today only £7.00 per year). To book your place please contact the Club Secretary as soon as possible by email, please note that places do fill quickly. Whilst free…. attendance at this session must be booked!
E-mail [email protected]