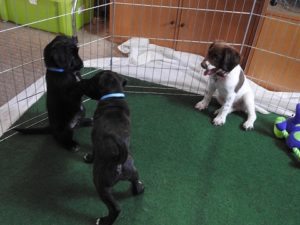 The most important period in which to socialize your new puppy is up to 16 weeks when they are at their most receptive to new experiences and before they start formal training classes. But this is also the period before their vaccinations are fully effective so we have arranged special FREE puppy socialization class on a Friday evening at 5pm to help you do this in a safe environment before they start formal classes. This will help your puppy to:
Be handled by people
Interact with unfamiliar people and dogs
Cope with new surfaces
Cope with scary sounds
Interact with man-made objects
Have confidence in new environments
The class is held in a large indoor barn in the winter months and our large 1-acre paddock in the summer months. Classes are free to Animal Magic Club Members (not a member? then join today only £7.00 per year). To book your place please contact Kathy, Club Secretary as soon as possible, please note that places do fill quickly so please discuss your requirements before your puppy is fully vaccinated. Please note puppies must be under 16 weeks of age to attend this free workshop.
Phone Club secretary 01263 720730
E-mail secretary@animal-magix.co.uk