A Good Foundation is the Key to Success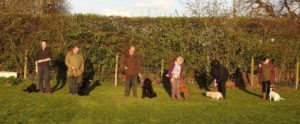 At Animal Magic we're on hand to help you build those foundations, giving you and your dog support and guidance to get you off on the best footing.
We have two versions of this course;
Puppies
Junior and Adult – for dogs over 8 months old who have had little or no training. Ideal for rescued dogs as working together helps build a lasting bond.
The aim of the course is to equip owners with a range of skills so that they can train their dog to be a well behaved member of the family.
The course covers:
Focus – gaining your dogs' attention on command
Recall – come when called
Sit, stand & lie down on command
Relax -be comfortable being groomed and examined by various people and to be happy meeting new dogs and people.
The spring term beings w/c 17th April, there are limited places left on these courses so please book quickly to avoid disappointment!