Would you like a FREE dog training course? Worth up to £92.00?
Then enter our caption competition today. Look at Frankie (GSD) and Lewey (cocker puppy) and guess what they are saying to each other. Send your entries to [email protected]. Closing date is January 20th 2017.
My caption is……………………………..
If I win the course I would like is (click on link  to take you to the timetable for next term)…………………………………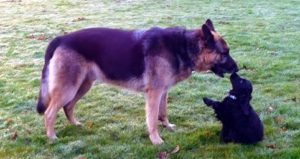 Best Wishes Bronwen Bell Club Manager
Ps Don't forget term starts Monday 23rd Jan