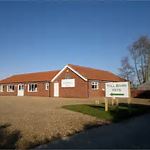 Our friends at Toll Barn Vets are supporting the Macmillan World's Biggest Coffee Morning by hosting an event on Friday 29th September between 12- 2pm.
Pop in for coffee and cake and meet their special guests from Phoenix Bird of Prey Rescue.
This is the largest annual fundraising event for Macmillan, last year raising £29.5 million. There are now 2.5 million people in the UK living with cancer, one in three of us will get cancer and it'll be one of the toughest things we'll ever have to face.  Macmillan's goal is that we'll never have to face this alone by providing medical, emotional and practical support as well as campaigning for better cancer care.  Cancer affects more than just those diagnosed with it, so they're there to support friends and family too.
So if you can make it, please pop in to eat cake and support his very worthwhile cause.
Toll Barn Vets can be found on Heath Road, North Walsham, NR28 0JB
Everyone welcome.