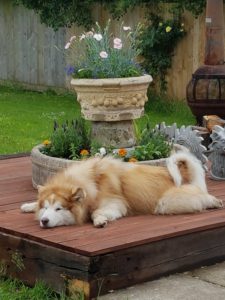 Plants for Pooches
Now that the warmer weather is here and we turn our attention to planting up our pots and baskets, give a thought to your dog and what your garden can do for them.
Creating a sensory garden for your dog is something every owner can do; it can be as simple as a few flower pots and can be as rewarding for you as it is for them. Planting carefully selected medicinal plants is based upon the practice of Zoopharmacognosy – the process where animals self-medicate using their sense of smell which is influenced by their physiological and psychological needs.  It sounds complicated but the theory is quite simple and there's a wealth of information available on the internet to offer you guidance.
Think about your dog and what plants might appeal, fill a few pots and experiment. As always, should you be concerned for your dogs' wellbeing in any way, always consult your vet.
Here's a few of the more common plants that you should find readily available:
Chamomile: dogs suffering from anxiety or skin/stomach upsets will be attracted to the scent of this plant
Lavender: helps to reduce anxiety and other nervous conditions
Marigolds: dogs experiencing grief or emotional distress will often sniff this out
Marshmallow: known to help animals with delicate stomachs
Meadowsweet: often selected by dogs with digestive problems, arthritis and rheumatic conditions
Mint: good for cooling properties and will often be selected by dogs who suffer from skin irritations
Plantain: helps gastric irritation and inflammation
Valerian: often selected by anxious dogs for its calming effect
Violets: Nervous dogs or those who have recently changed home may enjoy sniffing this plant