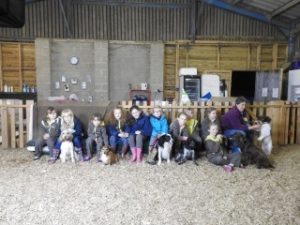 Animal Magic helps Brownies 
Animal Magic Dog Club were delighted to host visits from Mundesley Brownies in order that they could gain their Friends to Animals Badge.  The Brownies attended sessions hosted by our trainers where they learnt how to look after a dog, from grooming, feeding and exercise to when to go to the vets.  They learnt about the importance of training dogs and enjoyed putting their new found skills into practice around an agility course.  They were also taught about the needs of puppies, which was particularly appropriate for one lucky Brownie, who's fortunate enough to be collecting her very own puppy in December.
Group leader Debbie Wright said "the Brownies all thoroughly enjoyed their visits to Animal Magic, we are very grateful that they generously donate their time to us"
Mundesley Brownies will be awarded their Friends to Animals badge on 17th November.
For more information please visit the Girlguiding website at www.girlguiding.org.uk or call Debbie Wright on 01263 720540.