Don't let your dog eat horse poo.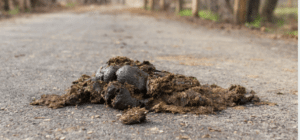 Horses in the UK are generally wormed once or twice a year, and most owners will worm them just before the grass starts to grow in February/March
A lot of  horse wormers contain Ivermectin which can be fatal to dogs.
Initial symptoms in the dog can be similar to those of a stroke with dilated pupils and an unsteady gait with possible seizures, difficulty breathing and eventually a coma. Ivermectin toxicity cannot be reversed, and if the drug has been digested within 4-6 hours, your vet may induce vomiting and/or give your dog activated charcoal to help minimize the amount of ivermectin that is absorbed.
Treatment will depend on the symptoms and may include giving your dog fluids directly into a vein and placing your dog on a ventilator, maintaining your dog's body temperature, or administering medication to control seizures.
Levels of Ivermectin are high in horse poo for 3-4 days after dosing, and fade to low or insignificant levels by 14 days
So ideally do not walk your dogs where horses have been grazing especially if you do not know the worming programme of the horses, and don't let then nibble tasty "dumps" on the roads.